Top 10 Fall Fashion Trends for Girls & Guys
Crisp air, crunchy leaves, and the scent of pumpkin spice – yes, fall is here. There's no denying it, fall is the prime time of year for fashion. From the rich color palates and luxurious pieces of outerwear to the cozy feel of cashmere and the edgy lines, fall fashion flatters everyone.
With the season in full-force, we wanted to find out what the GAG Community had to say about this year's top fall fashion trends. Both guys and girls weighed in, and we've created this list of the top 10 fall fashion trends for girls and guys.
Top Fall Fashion Trends for Girls
#1: Leggings & Skinny Jeans
No surprise here. Girls love the comfort and versatility of leggings and skinny jeans, while guys are all about the sleek silhouette they create. Leggings and skinny jeans are perfect because they can be dressed up with a pair of high heeled boots, worn casual with an embellished pair of ballet flats, or dressed down with a pair of sneakers. Opt for leggings and skinny jeans in neutral colors like black, brown, and navy blue, but don't be afraid to add a few bold looks to your wardrobe either - mustard, maroon, and Aztec patterns are a great alternative to the everyday look.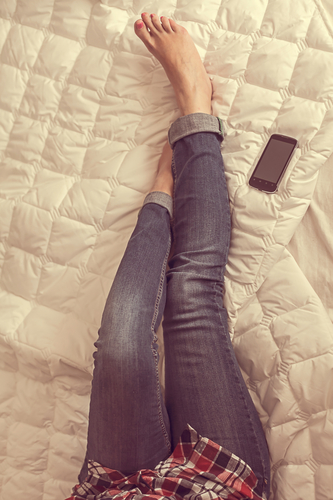 #2: Oversized Sweaters
After you've wriggled your way into your favorite pair of skinny jeans, pair them with an ultra-soft oversized sweater. When oversized tops are paired with narrow bottoms, the look is flawless and flattering on every body type. Oversized sweaters look fabulous in every color, but skin tone plays a crucial role here. If you're more of a porcelain princess, keep your eye out for rich jewel tones like ruby reds, emerald greens, and sapphire blues. If your complexion is richer, play with rose golds, ivory and winter whites, and powder blues.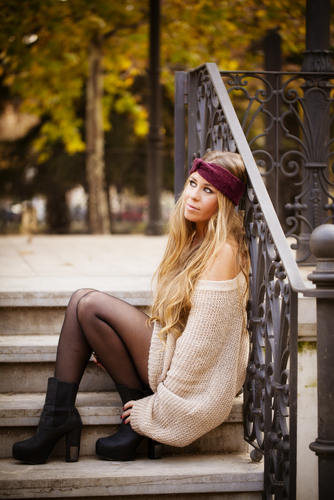 #3: Infinity Scarves
If you love wearing scarves, but hate trying to figure out how to tie them, infinity scarves are going to become your new BFF. The difference between infinity scarves and traditional scarves is that they are circular – which means all you have to do is drape them around your neck. Infinity scarves look great in solid colors and patterns, and can be worn with casual, comfy, and dressy attire. In addition to being seriously stylish, infinity scarves serve as a fully-functional cold weather accessory. Rock a patterned infinity scarf with a monochromatic dress, or add a solid colored infinity scarf to a patterned chiffon top for a look that screams, "I'm rocking this fall fashion trend so hard."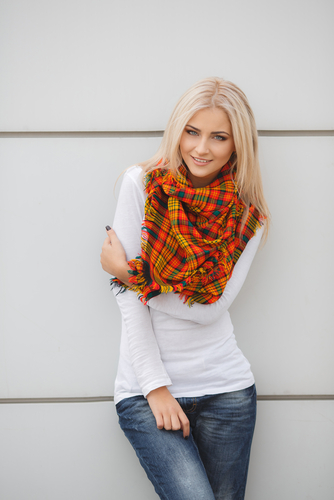 #4: Calf-High Boots
They're warm, sleek, stylish, and downright fabulous. Calf-high boots are the epitome of fall fashion, and they look great with just about everything. Strap on a pair of calf-high boots with your favorite pair of skinny jeans or leggings, or rock them with a wool skirt or sweater dress, whatever you choose, rest assured in knowing you'll look fierce. Black, brown, and grey calf-high boots are a staple for fall, but don't forget to branch out into the wonderful world of color! Maybe blue is your signature color? Perfect – treat yourself to a pair of royal blue suede boots, and watch heads turn as you strut your stuff.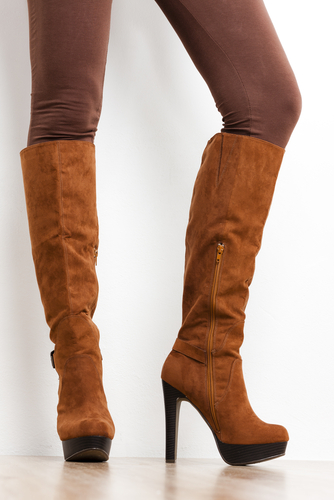 #5: Statement Necklaces
When it comes to necklaces this fall, bigger is most definitely better. A statement necklace is bold, chunky, and colorful. Pair a statement necklace with a casual outfit to create a look that's both polished and feminine. Pair a statement necklace with dressy attire to take the look from fabulous to glamorous. Remember: statement necklaces can be pretty overpowering, so if you add one to your outfit, take a minimalist approach with the rest of your jewelry (i.e. small stud earrings, delicate bracelets, etc.). Statement necklaces look stunning with everything from oversized sweaters to color block dresses. When choosing a statement necklace, look for neutral colors that can be paired easily with multiple items in your wardrobe.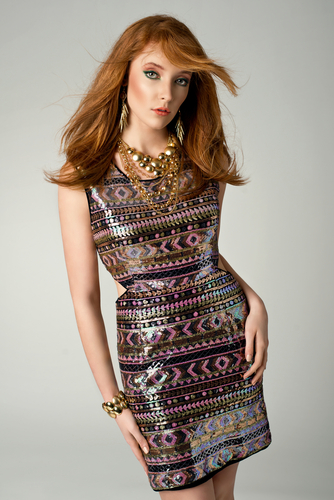 Top Fall Fashion Trends for Guys
#1: Plaid Shirts
This year's fall fashion trend for guys is all about the sexy lumberjack look. Plaid shirts paired with jeans and boots is the perfect look for the laid back guy to embrace this fall. Of course, the traditional red and black plaid is essential, but don't get tunnel vision - greens, browns, blues, and oranges are also great colors to add to your plaid color palate. For an added touch of style, roll the sleeves up a cuff or two.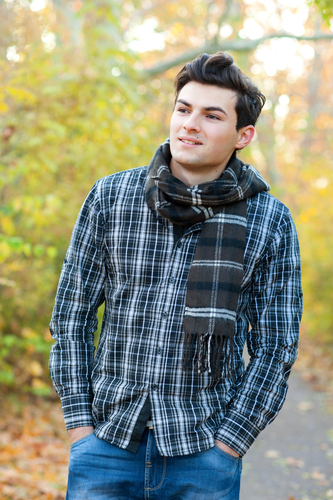 #2: Dark Denim
For guys, nothing is quite as timeless as a pair of well-fitting dark denim jeans. Dark denim jeans are a classic staple because they look great with everything – athletic hoodies and sneakers, plaid shirts and boots, and even button-up shirts and dress shoes. For everything from a job interview to a first date, dark denim jeans are a perfect option. When adding a pair of dark denim jeans to your wardrobe, pay special attention to the 3 F's: fit, feel, and functionality.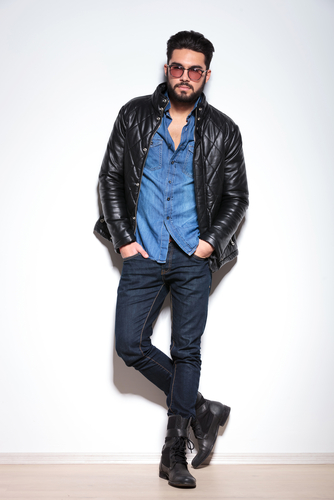 #3: Earth Tones
Fall is all about the colors, and the natural look is everything this year. When adding a few new pieces to your wardrobe this year, opt for earth tones. Grab a couple of cardigans in moss green and burnt orange, a pair of brown corduroys, and a few cold weather accessories in slate grey, sand, and ivory. Earth tones give off a great relaxed vibe, so if you're a self-proclaimed cool guy, earth tones will look great on you.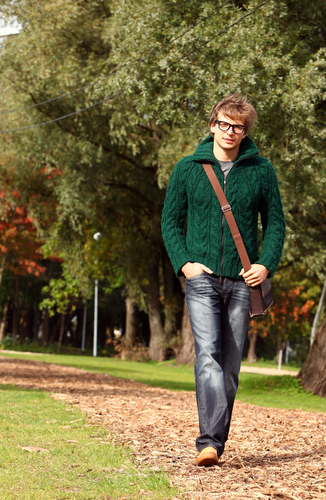 #4: Outerwear
Long wool coats, cropped denim jackets, cashmere scarves, leather jackets, and everything in-between – fall is the perfect season for staying warm in style. To get that polished and well-put-together look that women love, add a cozy piece of outerwear to your wardrobe. With so many different options out there, choosing the look that suits you best can be a bit tough. Remember: when trying out outerwear, select something that looks like you. If you're a casual video gamer, you probably won't feel very comfortable in a tailored wool overcoat, and if you're a stylish business executive with a keen eye for fashion, you probably won't feel confident in a rugged denim jacket. Choose pieces that reflect your style, and you'll always look like a million bucks.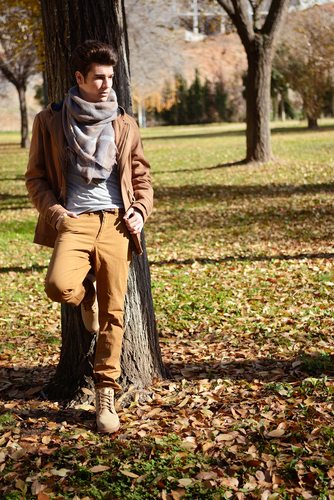 #5: Khakis
No, we're not talking about your grandpa's tan khakis, guys. This fall's khaki trend for guys is chic, cutting edge, and colorful. From navy blue and maroon to green and burnt orange, khakis are no longer categorized as a boring pair of pants. Colored khakis look great with zippered pull overs, cardigans, thermal tees, and even denim button-up shirts. Remember, choose a color that complements the items you already have in your wardrobe to make styling a breeze, and to get the most bang for your buck.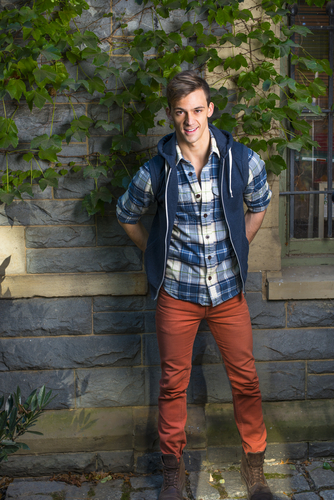 Fall Fashion Tips
However you choose to enhance your wardrobe this fall, don't forget to stay true to your style. Choose functional pieces that will flatter your body type and personality, and remember, confidence is key! Never say to yourself, "I can't pull that off," because you most definitely can. Bottom line, if you feel good, you'll look good.